I noticed this interesting bisque doll by Lee Ed up on Ebay. Further research indicates Lee Ed produced a number of shoulder head bisque dolls in the mid 1950s. This particular doll, created in 1955, is
Napoleon's first girlfriend
and one-time fiancee, Bernardine Eugénie Désirée Clary
.
The doll is beautifully sculpted and detailed and measures 17" high.
Since I spend most of my ti
me studying the ancient world rather than Napoleon's era, I had never heard of her.
Although she was engaged to Napoleon Bonaparte, she eventually married Jean-Baptiste Bernadotte, and crowned Queen Desideria of Sweden.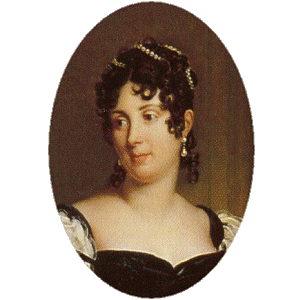 Désirée Clary was born in Marseille, France, the daughter of François Clary, a wealthy silk
manufacturer
and merchant, and his second wife Françoise Rose Somis.
"Her husband was appointed governor of Hanover in 1804-1805, Prince of Pontecorvo 1806 and was one the leading generals in the French Napoleonic army; he was made heir to the Swedish throne in 1810 and, after success in war, to the Norwegian throne in 1814.

They had only one child, Oscar, who eventually became King Oscar I of Sweden and Norway (17991859).

Desirée visited Sweden for the first time in 1810 but could not accustom herself to the demands of formal court etiquette. She was said to have been treated with a certain snobbery by the court and especially the queen, Hedwig Elizabeth Charlotte of Holstein-Gottorp, though the old dowager queen Sophia Magdalena of Denmark was kind to her. The climate was also a shock. It must be added, however, that according to descriptions, she seems to have behaved in a very "spoiled" manner and made no attempt to be liked, as she had never wished to be a queen and did not want to move so far away from her family. She left Sweden in 1811 under the name of "Countess of Gotland", officially because of her health, and returned to Paris. There she stayed for twelve years, leaving not only her husband but also her son behind. She herself said that the Swedish nobility had treated her as if they were made of ice: "Do not talk with me of Sweden, I get a cold as soon as I hear the word." In 1818, her husband became king, but she remained in Paris. In Sweden, her husband took a mistress, the noblewoman Mariana Koskull.

In 1823, Desiree returned to Sweden together with her son's bride, Josephine of Leuchtenberg, and in 1829, she was crowned queen at her own request. The 1830s were a period when she did her best to be active as a queen, a role she had never wanted to play. The decade is described as a time of balls and parties, more than had been seen at the Swedish court since the days of King Gustav III of Sweden, but Desiree soon grew tired of her royal status and wanted to return to France; her husband wouldn't allow it. She never became very popular and never learned to speak Swedish. After she was widowed, she grew more and more eccentric; she went to bed in the morning, she got up in the evening, she ate breakfast at night, and she drove around in a carriage through the streets, in the courtyard, or wandered around the corridors of the sleeping castle with a light. On the last day of her life, she entered her box at the opera just as the performance had ended." - Wikipedia

The novel
Désirée by Annemarie Selinko is based on actual events in her life and was made into a movie,
Désirée
(1954), an American film with
Jean Simmons
and
Marlon Brando.